"One day, while his mother and father were out, George dreamt he was small, and when he woke up he found it was true." So begins this delightful picture book by William Joyce, who will be most familiar to folks as the creator of Disney Channel's Rolie Polie Olie. George too has his own series now, on PBS, and a spanking new reprint of his original adventure.
The story here is fairly basic : George, suddenly three inches small, follows the instructions his parents left behind in a note, to clean up the house and watch his little brother (now a BIG little brother). Along the way he avoids an ornery house cat and rides in a toy plane. Our kids favorite page features George scrubbing dirty dishes by skiing down them on a sponge.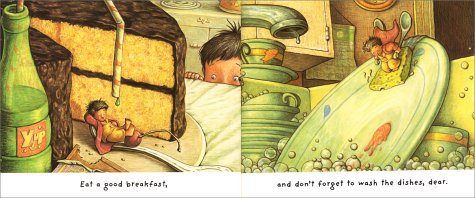 As with Rolie Polie Olie though, the story is secondary to Mr. Joyce's remarkable artwork. In Olie he manages to combine Art Deco with Futurism; here it's all throwback. George Shrinks looks like a really hip version of the Dick and Jane books. A story with a miniature hero kids can relate to and illustration interesting enough to hold adult attention--what more can you ask?
(Reviewed:)
Grade: (A)
Tweet


Copyright 1998-2015 Orrin Judd